Over the last decade, Sunknowledge Services Inc has been setting the trend as a powerful RCM destination for DME/HME companies. With more and more number of people opting for Medicare advantage plans for lower premiums and associated benefits, more gate keeping will be induced which can make your patient's life quite hectic. It is important to note that in today's market place, it is pertinent to have the right measures in place with your practice management efforts for gaining in on patient numbers!
If you are looking for streamlined support for your DME prior authorization, partner with Sunknowledge Services Inc! We are a next gen DMEPOS billing company that delivers complete support in eligibility verification, prior authorization, doctor's office follow ups with document management efforts, order confirmation and entry that lays down a strong pedestal for an improved post billing approach.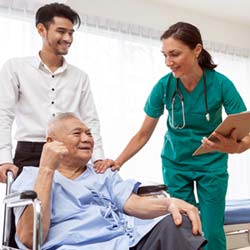 We also offer post billing activities in denial management, claims submission, payment posting, accounts receivable collections and offer a bandwidth of services that transpires to better cash flow for our clients in the best possible manner.
Also, we work as a dedicated extension for our clients and are a reliable operational extension for over 100's of clients in DME/HME/orthotics & prosthetics segment and are currently working with great distinction, reducing their operational expenses and helping the clients earn more money with a streamlined prior authorization for DME/HME approach.
As a reliable operational arm, our team is proficient across all major billing systems like OPIE, Fastrack, Brightree, Kareo, CPR+ HME and many more, offer seamless transition. Also, we are capable with any client proprietary platform.
IMMEDIATELY increase your COLLECTIONS by EIGHTY PERCENT within the first 30 days by getting your PRIOR AUTHORIZATION accurately approved by us.
Our services encompass:
Billing Services

Pre Billing

Eligibility Verification - online

Eligibility Verification - online (with same/similar check)

Eligibility Verification - calling (with same/similar check)

Eligibility Verification - calling (with same/similar check) BCBS

Prior Authorization

Prior Authorization (with dr.'s office follow/up) / Re-authorization

Dr.'s office follow-up

Order entry (patient, provider, insurance, item etc.)

Confirmation

Post Billing

Rejection management

Posting - auto (without audit)

Posting - auto (with audit)

Posting - manual

A/R follow-up

A/R & Denial Management

Support Activities

CPAP Compliance (with patient counseling calls)

Patient collections

Re-supply order calls (to patient to confirm requirement)

Hold (eligibility, auth, ins. change, manual hold etc.)