A complete RCM partner, Sunknowledge has the ability to offer an excellent approach to front end / back end revenue cycle management. Our team performs specific activities in eligibility verification, prior authorization, rejection management and recovery of accounts receivable.
According to the new CMS guidelines, any DME provider is entitled to make more money/ increase the customer base with Medicare. With the competitive bidding gap, it is critical for both the non bid winners and bid winners to earn more Medicare customers by having the right billing efforts in place.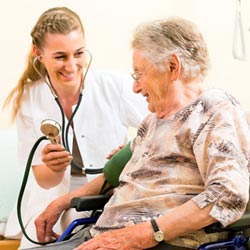 Ensure Cleaner DME Prior Authorization
With an assured understanding of the practice management demands in the DME industry, Sunknowledge takes pride in a pool of resources, with an extensive understanding of all prominent practice management/ billing systems.
Our ability to work as a reliable DME billing partner sets the difference for an improved cash flow. With an excellent back and forth mechanism of sharing of information, Sunknowledge offers stand alone support in DME prior authorization.
Our Full Range of Services in DME Billing,
Order Entry
Eligibility Verification and Authorization
Doctor Office Follow-up
Order Confirmation
Scheduling of Delivery
Billing & Collections
Creation of Claims
Claims Submission & Rejections
Cash Posting
A/R Follow-up
Rejection & Denial Management
Our Experts are Ready to Help
Speak to our leadership team, let us know your billing efforts and offer you a flexible / integrated plan of action with DME prior authorization / billing. We are ready to improve your cash flow in the best possible manner. We have strong references across the industry over 100 clients in the DME space and have excellent credentials In managing prior authorization for DME, denial management and recovery of receivables. Our team guarantees an instant shrink accounts receivable bucket by 70% with an increase of collections up to 90%.
Transform your financial credentials with a complete DME billing Services Company. We eliminate your pain areas with our specialized intervention. Get in touch with our experts and find out what difference we bring to the table as your next gen DME billing company.