CMS requires ambulance operators receive approval to transport non emergency patients before the trip starts. A signature from the physician is no longer a testimony enough for qualifying patients for stretcher transportation.
How patients are accepted in healthcare facilities have completely changed. There is constant cooperation needed between physician, facility as well as ambulance service provider to collect all the needed documents for Medicare approvals.
Specific information is needed in:
Mobility (is the patient capable of sitting in a chair?)
Wounds and wound care
Oxygenation (with titration of oxygen rates and delivery method)
Pain scales
Interventions and post intervention assessments
Sunknowledge Services Inc: Complete Action Plan in Ambulance Service Prior Authorization
As a next gen medical billing and collections destination, Sunknowledge Services Inc has the capability of delivering complete Ambulance service prior authorization assistance. To substantiate patient needs ambulance support, Medicare needs: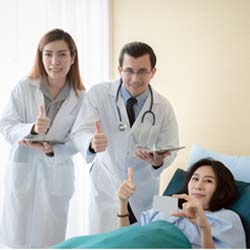 Physician Certification Statement (PCS)
Physician Mobility Assessment (PMA)
Copies of sections of the medical record which may include but is not limited to:
Physician's History and Physical (H&P)
Physician's Progress Notes
Nurse's Notes
Physical Therapy Notes
Respiratory Therapy Notes
Wound Care Notes
Prescriptions For Pain Medications
Sunknowledge Services Inc delivers the right accuracy, objective clinical data and legibility that transforms your Ambulance service prior authorization approach. We are currently working with some of the leading names and deliver:
Instant reduction of costs by 80%
FREE medical billing software, EMR & setup
15 yrs payer side experience in claim adjudication
Real-time eligibility checks & fast authorization
100% prior authorization submission on the same day
Increase current rate of completed requests by 1.5 – 2X
100% HIPAA-HITECH compliance
Rapid claim status analysis in denial management
Turnaround time less than 48 hours max.
Low service fees with no hidden cost
No binding contracts
Over 100's of client references across the country
Real-time audits and custom reporting
Highest productivity metrics in the whole RCM world
Let us share with you, our best practices, and capabilities in Ambulance service prior authorization over a "no commitment call". Sunknowledge Services Inc can meet or beat any price and offers unparalleled operational transparency and great productivity metrics.