Excellent practice management/ revenue cycle management support extended to some of the best across the DMEPOS/HME space, Sunknowledge Services Inc has the perfect answer for both pre and post DME billing needs.
We are currently serving more than 100 clients all across the country and have excellent references with one of the best in the industry when it comes to delivering stand out support in DME insurance verification, DME prior authorization, and doctor's office follow up that sets up a strong foundation for a hassle free RCM experience.
Sunknowledge Services Inc delivers niche support with the best productivity metrics, unparalleled support with seamless communication standards, account management support as a reliable operational extension, transforming collections for the some of the best across the business with great credentials.
Our Full List of Services in DME Revenue Cycle Management Encompasses: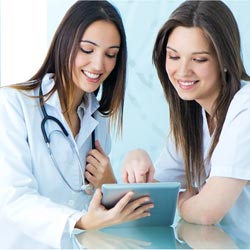 Pre-billing Services:
Eligibility Verification - Online & Calling
Authorization Initiation - Online & Calling
Doctor's Office Follow-up for documents etc
Re-Authorization
Order Entry (Patient, Provider, Insurance, Item etc)
Order Confirmation
Scheduling of Delivery
Post-billing Services:
Creation of Claims
Claims Submission
Claim Rejection Management
Payment Posting - Auto & Manual
Accounts Receivable & Denial Management
Our rates are placed at $7 per hour and we offer seamless transition that is available without any additional expenses wherein we understand your protocols and deliver actionable support. We reduce billing costs by 80%, improve collection s with a first pass rate of 97% that is assured with a complete pre billing effort that involves task specific support in DME prior authorization, helping in reducing denials, improve collections in the long run.
Looking to know more on how we deliver action packed support in DME prior authorization? Our team will be happy to share with you, our functional best practices that will help in eliminating proven challenges in your RCM mandates with us working as your ultimate operational arm. Leverage the Sunknowledge advantage for a streamlined RCM approach. You are just a call away from a next gen healthcare RCM destination that can improve your DME prior authorization process helping you focus better on patient care.