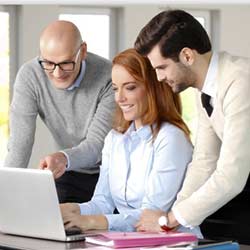 Like numerous healthcare practices around the country, you are tired of dealing with the prior authorization requirements for specific medications, treatment, procedures, etc. Industry surveys say 25% of physicians have to spend more or less 40 hours each week on prior authorizations only. It affects the revenue earnings with the loss of time and effort.
For the internal staffs of the physicians' offices and other healthcare providers, prior authorization is quite a specialized function and demands extra effort and time. Already overworked with patient care, this extra responsibility gives rise to delays and consequent errors in the system.
Often, the healthcare practices operate their prior auth process in the manual mode, which makes it error-prone inviting rejections and denials. The need of the hour is to outsource your practice to a reliable prior authorization service like PriorAuth Online to give your practice a comprehensive solution to the prior auth pains.
PriorAuth Online: Leave it to the Expert
Most healthcare providers are contemplating to shift to the Electronic Prior Authorization (EPA) system as recent studies have estimated that 51% of patients can avail the advantage of original therapy with EPA as opposed to 38% working in the manual method. However, not all practices have the volume of work or infrastructure to afford EPA. Even for those cases, PriorAuth Online is the ideal assist with its wonderful flexibility to work in all modes and at the cheapest rates.
PriorAuth Online is the prior auth division of Sunknowledge Services Inc., one of the best names in the medical billing domain of healthcare industry. Just a glance at benefits of working with PriorAuth Online validates the fact:
80% Reduction in Billing Costs
Dedicated account manager
Low fee standalone services as low as $7 per hour
99% accuracy
Increased revenue collection up to 97%
Unsurpassed speed
No binding contracts
100s of clients with excellent references
100% HIPAA Compliance
Fully supported by Hiscox Insurance coverage up to 1 million for any error of omission and commission
100% client retention
Daily/Weekly/Monthly customized reports
Clients' legal issues handled by Nixon Peabody
Free telemedicine platform with RCM package
Not only these, PriorAuth Online also assist you with any of your billers and coders staffing limitations through its excellent team of trained medical billing professionals. Want to hear more from us? Get in touch with us at the earliest and let us take the rest forward.