A composite prior authorization for anesthesiology services has to be the benchmark for improved financial credentials.
You have to ask the questions doing a self analysis "What is the current standard of practice management?" Is your team equipped with the best practices required for a proactive prior authorization process?
The right modifiers need to be present in the medical claims for a consistent flow. The biggest confusion in getting the reimbursements consistency for anesthesiology services is to determine what are going to be paid and the ones that are not.
Almost 92% report of delays with care management as well as abandoned treatment with the PA process. Almost 78% responded that delays with prior authorization often lead to prescription abandonment.
Also, time reporting is a crucial factor in making your anesthesiology billing stronger. The present status that explains the contact between the patient and the anesthesiology provider has to be explained in the right earnest.
A quality revenue cycle management company that handles healthcare administration needs of a modern anesthesia practice by becoming a seamless operational extension has to be the roadmap forward.
A powerful medical billing & collections company provides the right checks and balances. A better denial management is achieved by a proactive prior authorization process
It is true that any other administrative hassle is not as painful for the physicians than securing quick and effective prior authorization solutions.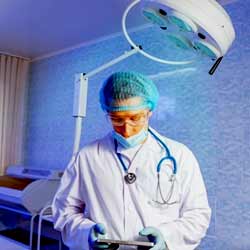 Prior Authorization for Anesthesiology Services More Transparent
It will be crucial to choose an expert partner that will help you with pre-cert and eligibility checks requests. You have to focus on patients and find yourself a partner that has the best information sharing and collecting practice in prior authorization?
A better understanding of the payer specifications needs an expert partner. A skilled team well versed with the claims adjudication mandates will be crucial.
Your day to day management of practice affairs can be best taken care by Sun Knowledge. We have been a desired partner for many providers and have been providing them an end to end practice management and revenue cycle management assistance.
Right from performing task specific jobs in eligibility verification, authorization, collecting relevant information, contacting the physician office, updating the auth status and outcome, we are your one stop destination for standalone prior authorization solutions.