Currently working with leading payers and providers across the country, Sunknowledge Services Inc transforms your cash flow with complete practice management/ revenue cycle management support. We are a one stop destination when it comes to offering stand out assistance in prior authorization services. As a 100% HIPAA compliant company, Sunknowledge Services Inc is a one stop destination that improves your cash flow by employing checks and balances with tailored support in Prior authorization services.
Starting at just $7 per auth, we are currently processing more than 50,000 PA's on a monthly basis, making us a champion practice management/ revenue cycle management extension to handle any amount of volume with prior authorization.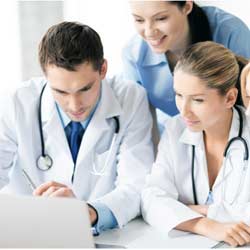 A Powerful Action Plan in Prior Authorization Services
We are well defined with our understanding of the claims adjudication mandates and work with leading payers providing our specialized intervention. Our stand alone support in prior authorization will encompass:
Gather important procedural information from patient as well as provider
Determine the eligibility coverage
Validate prior auth request with effective payer communication
Initiate PA request as per payer requirements
Checking for authorization status
Follow up with ordering physicians with documents of relevance
Provide additional information as per payer requests
Update the authorization outcome in the PM/ billing system
Let us share with you our references from over 100's of clients. We will be working as your ultimate operational extension and will eliminate all the pain areas with your revenue cycle management. Also, we guarantee to reduce your operational costs by 70% with an increase of your A/R collections by 97%. Leverage the Sunknowledge Services Inc opportunity in prior authorization now!
We provide you ultimate support in prior authorization services. Our team is competent across all practice management/ billing systems. Sunknowledge Services Inc will be eager to share with you, our functional best practices, and references across the industry. Partner with us for a smoother practice management experience like never before! We help in laying down a strong foundation that helps in eliminating proven pain points in your revenue cycle in the best possible manner.