As a reliable operational extension, Sunknowledge Services Inc sets the tone in revenue cycle management. We are a next gen Orthotics and Prosthetics billing company that transforms your cash flow by working as your growth partner.
Our team is perfectly equipped to offer you state of the art support in pre billing / post billing needs and offer ultimate support when it comes to working as your billing extension. We help in laying down the right checks and balances by providing tailored support in orthotics and prosthetics prior authorization services at the best price in the market.
Sunknowledge Services Inc takes pride in a pool of Orthotics and Prosthetics billers who will be working as dedicated resources and a part of your TEAM. On a standalone basis, our team performs: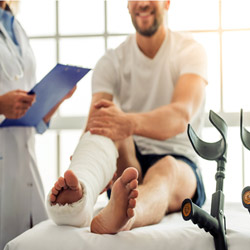 Rx Order Entry
Patient demographics & insurance entry
Product Code/Rx & Dx Entry
Eligibility verification/Authorization
Collection of complete Rx
Collection of documents for Auth approval
Submission
Rejection/denial management
A/R Follow-up
Leverage the Sunknowledge Advantage in Orthotics and Prosthetics Prior Authorization
Competence across all major systems, only we can provide you the perfect action plan in Orthotics and prosthetics prior authorization. Our team of experts in prior authorization will help in performing task specific functions in eligibility verification, prior authorization paving the way for a cleaner claims submission and better denial management best practices. We ensure:
Instant reduction of billing costs by 80%
Collection increase of over 9&% (even from aging A/R)
100% PA submission guaranteed on the same day itself
Prior Authorization services done with 99% accuracy
Excellent references from 100's of clients in the Orthotics & prosthetics space
Reducing the A/R bucket by 30% within the first month
Rates placed at just $7 per hour/ We can meet or beat any price
Dedicated account management/ Customized reporting standards
Highest productivity metrics in the entire RCM world
If you want to know about our services and how we intend to improve your cash flow, Get in touch! We offer you seamless proficiency and a complete action plan for a complete RCM experience.