Over the last decade, Sunknowledge Services Inc has been a trusted healthcare services company. We have been working with leading healthcare providers and payers in the country. Not only do we provide our customized medical billing and collections support across more than 28 specialties, but also extend claims adjudication support to prominent insurance companies in the country. We understand the mandates of the industry better than any other healthcare revenue cycle management company and offer the right checks and balances for an improved ROI.
Complete DME Practice Management Destination
We offer our tailored support in prior authorization for DME services and extend our complete action plan. Our team is versatile across all major EMR / practice management systems and offers you the needed flexibility that transpires into better revenue generation. Our biggest asset will be our dedicated account management/ customized reporting support and the ability to work in accordance to your protocols.
Our team of prior authorization experts understands the precise requirements for DME services and offer you tailored assistance. Right from initiating the PA request, contacting the physician office, validating and contacting the payer, collection of important information, updating the auth outcome in the client billing system, we are a one stop destination for prior authorization for DME. Also, we provide a seamless transition process, a month effort to set up a process manual that will help us work as an extension of your operational best practices.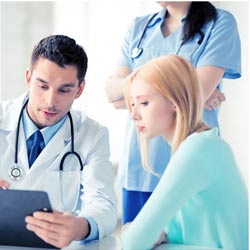 Our Benefits Proposition
Increased revenue – reduced collection Time (up to 97% collection rate)
Claim submission within 48 hours of receipt of billing input
Adherence to CMS billing requirements
Proper records maintenance and visibility through reporting
Standardization of billing operations
Drive your ROI with our complete range of prior authorization services. Currently almost 50% of our business revolves around DME practice management/ billing. We process more than 50,000 PA's on a monthly basis and perfectly capable of handling any volume of prior authorization requirements that you might have. Let us demonstrate our capabilities and share with you, how we eliminate proven pain points in your practice management with our specialized intervention.