More and more patients are opting for Medicare Advantage plans for additional benefits, lower premiums. As a DME/HME provider, it implies that there will be more gate keeping and more prior authorization!
Already, cumulative wait times are at an all time and as a provider , if you are looking to find an edge in the competitive landscape , you will be have to streamline your practice management priorities and find effective checks and balances with your DME prior authorization.
Leverage The Sunknowledge Advantage: Complete DME/HME Prior Authorization Support
Already, extending superior support meeting both pre and post billing needs, Sunknowledge Services Inc is a complete HME prior authorization destination. As a 100% HIPAA compliant company, we implement the right practices that eliminate proven flaws in your practice management process. We believe in working as a dedicated operational extension for some of the leading DME, HME as well as clients in the Orthotics and prosthetics space.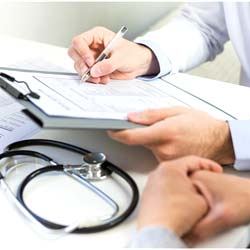 Our Complete Action Plan in DME/HME Prior Authorization Includes:
A One Stop Practice Management Destination
Guaranteed reduction of operational cost by 70%
Prompt service with a consistent accuracy rate of 99.9%
Increase your current rate of completed requests by 1.5 – 2x
The only RCM Company specializing in Pre Certification
Extensive experience in adjudicating claims for large Payers
Extending task specific support in Eligibility verification, prior authorization, doctor's office follow up and order entry and confirmation.
Comprehensive Action Plan for your Prior Authorization worries
Authorization Initiation
Calling up insurance to find the authorization filing procedure and turnaround time
Gathering prior-authorization form and relevant medical documents from the providers
Submission of the authorization request (fax/online/call) to the payer along with relevant documentation (if required)
Tracking of Fax receipts
Authorization follow-up
Communicating with the payer to check the status of the authorization as per the turnaround time protocol of the payer.
It also involves sharing additional notes as per payers' requirement
Acknowledgement of Authorization approval
Updating approved authorization in the providers' practice management system
Complete documentation on the start and end date for the Authorization approval, service information and provider information
Let us share our best practices with you on how we make a difference in your DME/HME prior authorization with trust and excellence!