Sunknowledge Services Inc is a complete healthcare revenue cycle management company. We provide you seamless proficiency across all major billing platforms with a great pool of medical billers, coders that understand claims adjudication mandates of the industry. We have ensured 100% client satisfaction with zero attrition record in the last 10 years.
We have been a powerful medical billing and collections partner, extending state of the art support in practice management activities. Over the last decade, we have been catering support to Medicare Advantage Plans/IPA's/MSO's as well as working with leading healthcare providers for their billing support (Physician Practices, DME's companies, Orthotics & Prosthetics groups, Radiology, Nursing Homes. Hospitals, Urgent Cares, Surgical Practices, Genomics labs and many more)! As a powerful healthcare services company, we are unique as we work with both provider and payer side of the business.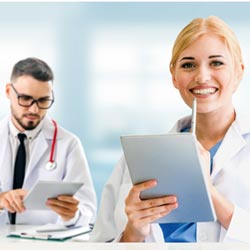 Checks & Balances With Streamlined Prior Authorization Assistance
Our prior authorization (PA) team understands what it takes to handle DME services. We do it all from:
Initiating auth request
Contacting the insurance
Collections of important documents
Updating the auth outcome
We are a complete prior authorization company for all your DME practice management needs.
We are a proven DME billing company. Nearly 50% of our current business revolves around DME billing. We extend superior support in after sales support, CPAP compliance and provide the needed support meeting your pre billing requirements.
Our team understands what it takes to handle all the major practice management/ billing systems like the Fastrack, Brightree, OPIE as well as capable of handling any of your proprietary platform. We provide seamless transition, prepare the process to work according to your protocols as a complete operational extension.
A One-stop DME Practice Management/RCM Destination
80% reduction in current billing operations cost… instantly
Ensure over 90% collections (even from ageing A/R)!
Guaranteed 100% PA submission on the same day
We do Prior authorization services with 99% accuracy.
Excellent references from industry peers
Shrinking the accounts receivable bucket by 30% within 1 month
Rates starts from just $7/hour/ The best in the marketplace
Dedicated account manager to get in touch anytime
The best productivity metrics in the whole RCM world
Customized reports meeting your business needs
Enhance your cash flow; let us work as your operational extension, the best part, all our services are offered on a standalone basis. It essentially means that you can choose any one of our services that meets your immediate priority or can opt for an integrated approach.