If you are looking to earn the perfect balance between your earning of more customers, making more cash by better practice management standards, Sunknowledge Services Inc is here to help. We are a complete DME billing Services Company, offering state of the art services in DME prior authorization with great commitment and consistency. We offer stand alone/ end to end practice management/ revenue cycle management services to leading clients in the DME space. Our team has the ability to offer unparalleled support with a keen understanding
We can meet or beat any price in the market: Get access to dedicated resources at just $7 per hour with complete versatility across all practice management systems and we cater the best support when it comes to offering state of the art support in DME prior authorization.
The highest collection rate in the industry: With a 97% first pass collection rate, we ensure that claims can be followed through efficiently for payment in case of denials which are worked by a team of highly experience AR Analysts.
Unparalleled productivity metrics: We currently have one of the highest productivity metrics in the industry with 99.98% accuracy. Our robust internal audit program identifies and addresses areas of improvement. Process efficiency is therefore an ongoing activity for us.
Great references from top clients: We are the only medical billing company, working with both payers and providers. Currently we are working with some of the biggest names of the industry in the DME segment: Hampton Homecare, Pacific Pulmonary Services, Landauer Medstar, Motogomery Medical Equipment to name a few.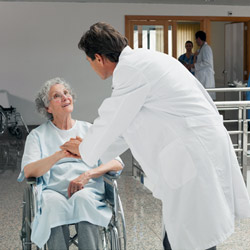 Also, we are working with top insurance companies like Heritage Provider Network, Healthcare Partners, helping them with our claims adjudication services. It gives us the edge to provide a complete RCM approach, unique in the marketplace.
Liability Insurance: We provide our clients with a liability insurance of $3 Million aggregate with a $1 Million coverage per incident through Hiscox which is a subsidiary of Geico.
Dedicated manager for seamless communication: Our operations model involves dedicated managers to support our clients and this is offered at no additional cost. The managers take complete ownership and are responsible for delivery. This ensures ease of communication as well. An escalation matrix is in place should concern arise
Customized Reporting Meeting Your Protocols
Our experience shows that reporting plays a major role in ensuring client satisfaction. To this effect we create reports which are customized to our client's requirements. Reporting templates are created based on the requirements shared by our clients at the time of transition.
Compliance: We are an ISO 27001:2013 and ISO 9001:2008 certified organization. The certifications cover Information Security Management Service requirements as well as Quality Management Service requirements. This in turn ensures HIPAA compliance and involves a stringent audit mechanism which is carried out annually by an external entity.