Over a decade serving the healthcare industry, Sunknowledge Services Inc has been a one stop destination for both payers and providers with admirable distinction. The best part of working with us will be our extensive understanding of the claims adjudication mandates, ability provide seamless support which is unparalleled in the marketplace. As a complete healthcare services company, we offer state of the art support in operations , offer one of a kind assistance and a great roadmap that transpires to better cash flow for leading healthcare providers.
We offer a great pool of practice management experts who are versatile across all leading billing systems. Our team of DME billers / coders has the ability to work as a desired operational extension for some of the biggest names in the DME space. Sunknowledge Services Inc delivers proactive support that accelerates cash flow by laying down the right checks and balances bettering the practice management experience. Our team delivers:
The bidding window for Medicare DME is now set to open July 16, 2019, a change from the previous announced from the June timeline. It essentially implies that DME manufacturers will still have an extra month for preparing for the 2021 competitive bidding program. The decision to push back the bid window aims to provide all the bidders, additional time to prepare. DME providers in the new competitive landscape, have to actively engage the patients in a new, more purposeful and consumer friendly manner by establishing a strong payment assurance strategy.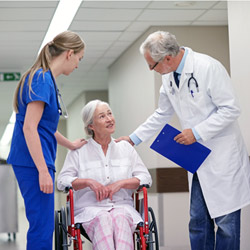 Our team delivers:
Order Entry
Eligibility Verification and Authorization
Doctor Office Follow-up
Order Confirmation
Scheduling of Delivery
Billing & Collections
Creation of Claims
Claims Submission & Rejections
Cash Posting
A/R Follow-up
Rejection & Denial Management
We offer task specific activities in eligibility verification, prior authorization, denial management and accounts receivable recovery. Let our team share with you, our best practices and how we serve complete support in prior authorization for DME services. Leverage the Sunknowledge opportunity for a better revenue cycle management experience.